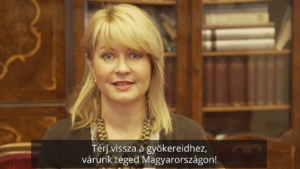 2022-05-06
Video message from State Secretary Orsolya Pacsay-Tomassich about the Hungarian Diaspora Scholarship starting in November 2020.
---
My fellow young Hungarians and future Scholarship holders.
We, the Hungarian people have been home here, in the Carpathian Basin in the very heart of Europe for over a millennium. Our nation has been ravaged by the storms of history and the autocracies of the 20th century, a yearning for freedom or getting back to the motherland.
For the longest time, these fellow Hungarians had to retain and nurture their Hungarian roots in faraway lands. They are your parents, grandparents, and great-grandparents.
For you, Hungary may only be a distant place in family stories. A cosy little town in a faded old family photograph – or a city with a river running through. Or a distant relative from the past smiling at you from an old black-and-white photo. Maybe a name that sounds strange, and the letters have long lost their accents. Or very much living traditions and memories your communities have not let fade away. Folk dances and songs, Sunday school… And maybe you can speak Hungarian, this "secret" language only your family understands in your neighbourhood.
Whatever it is, we firmly believe that a shared past and future is the mortar in the building we call the Hungarian nation. We believe that being Hungarian, and having roots running deep down in the nurturing ground of this nation brings the hope of a great future full of potential and opportunities. A future is well worth aiming for.
The memories may fade with time, but this sense of belonging won't. We want the notion of Hungary to be an active experience for you. We are encouraging you to reboot your roots.
To aid and facilitate this the Government of Hungary has established the Hungarian Diaspora Scholarship Program. The Program launches in the 2021/2022 academic year, the application is open from November 2021. We would like you to apply and have your university or college education in Hungary.
For if you do, we will show you the abundance of historical and cultural treasures of this beautiful country. And you will get a world-class education and competitive knowledge tailored to your level of command of the Hungarian language; in English or Hungarian, we will open the door for you to the wonders of our beautiful language.
Wherever you live in the world, you are important to us. The country and nation you are part of – embrace Hungary. Reboot your roots. Hungary is welcoming you with open arms.