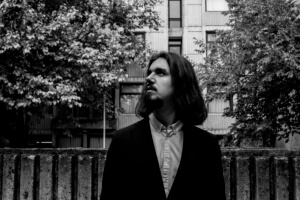 2023-07-28
Meet Oliver Zrinyi from Skopje, Macedonia. After completing his studies in Classical guitar (MA) at the University of Pécs, he is now embarking on the Hungarian Language Course to prepare for his doctoral studies. Discover more about his art and how his time in Hungary has influenced his work through our interview.
---
Tell us about your Hungarian roots.
I am Hungarian from my mothers' side of the family. They are Hungarians from the Croatian part that used to belong to Hungary.
Why did you choose to study in Hungary?
I chose Hungary because it looked like a good option for me to learn about my profession and at the same time to learn about my roots, culture, and language.
What are your impressions of college life in Hungary?
It was my first time living in a foreign country and I really liked living alone and meeting people from all over the world. It was my first-time making friends from different continents and different races. The studying program was different than the one in my country, some things were better, and others weren't, but I did my best to adapt to my new surroundings and try to see things from a different point of view. Living in Hungary wasn't as much of a culture shock as it is for the students who are not from Europe, for me it was very easy to adapt, and I felt very good, safe and taken care of in Hungary.
How did you hear about the Hungarian Diaspora Scholarship opportunity, and why did you choose to apply for the scholarship?
I heard about the scholarship from Sutus József, the president of the Hungarian community in Macedonia called Teleház. When I got the information about this scholarship, I was already looking to apply for Stipendium Hungaricum, but I saw this scholarship as a better opportunity to learn the language.
Why would you recommend the scholarship programme?
I would recommend this program because it covers most of the expenses, allows you to study at good faculties, you get to live in an international surrounding, meet people from all over the world, meet other diaspora scholarship holders from other countries, participate in a lot of programs which are organized by the organization for free, learning about Hungary and improving/learning the Hungarian language.
Tell us about your decision to apply for the Hungarian language course after finishing your studies.
I didn't get to learn the language at the point that I would be satisfied because studying something as difficult as music takes almost all your time if you want to be good at it, but at the same time I would like to continue studying music here for my PhD and the PhD studies are only in Hungarian, that's why I chose to do this 1-year preparatory course where I can focus only on the language.
What is your goal with doctoral studies?
My goal is to do research and write a thesis on muscle memory, especially when it comes to playing an instrument. After that, I would like to work as a professor.
What genres influence your art, and what feeds it?
My art finds its roots in the diverse influences of jazz, classical, and folk music, creating a unique fusion of sounds. Emotions play a profound role in my creative journey, particularly during moments of sadness, melancholy, and depression, when life feels uncertain, and luck seems elusive. Moreover, emotional wounds inflicted by others or life's challenges fuel my artistic expression, becoming the catalyst for my introspection. Beyond that, I draw inspiration from the deeper facets of human existence. Themes of death, sadness, sorrow, anxiety, and fear provide the palette from which I craft my compositions. In its vulnerability and authenticity, my art refuses to be confined by convention or the need for universal acceptance. It remains unapologetically honest, baring its soul to those who delve into its depths.
As an artist, my purpose is to forge a genuine connection with the hearts of those who find solace and understanding within the layers of my creations.
How did living and studying in Hungary influence your art?
Living in Hungary has deeply influenced my art. During the two years I spent here, I went through significant changes that made me grow as a person. In that process, I experienced both pain and sorrow, which became a source of inspiration for my new music. Love and affection also played a role in inspiring my art, as I had some bittersweet moments in that area. Another aspect that impacted my art in Hungary was saying goodbye to all my friends who I studied with for two years. I knew that day would come, but it hit me differently when everyone left, and I was the only one staying. All these experiences have become a part of my art.
What is your favourite memory from your time studying in Hungary?
I don't have one favourite memory that I can choose, but the things that I treasure the most are all the friendships that I made while I was in Hungary.