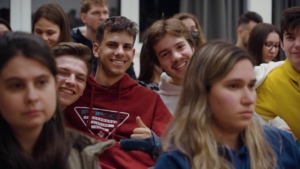 2022-05-12
In Sátoraljaújhely, the capital of Zemplén, the scholarship holders of the Diaspora Scholarship Program met their fellows from the Carpathian Basin studying within the framework of the KKM Balassi Training Programs to establish direct relations with each other.
---
Young people of Hungarian origin from different parts of the world study at different universities and study programs in the country. The first meeting of the young people living in the diaspora was held by the Rákóczi Association in the Rákóczi Hotel, Camp, and Event Center in Sátoraljaújhely, the capital of Zemplén, with the aim of enabling the scholarship holders to establish direct contact with each other and their compatriots from the Carpathian basin studying at MFA Balassi Scholarship Program.
— Csongor Csáky:
The Rákóczi Association is honoured, that the young people, many of whom had joined our diaspora program before, even as high school students, now are here as university students, and are actually spending a weekend here from various universities and study programs from Debrecen, Pécs, and Budapest. We also get to know each other, they get to know the people who are connected to their scholarship program or the Ministry of Foreign Affairs.
— I came from Sweden.
— Connecticut.
— I came from Calgary, Canada.
— I'm from New Jersey, America.
— I came from Nagydobrony, Ukraine.
— From England.
— I'm from New Jersey.
— I came from Toronto, Canada.
— Richárd Hörcsik:
There is something to be proud of, and this is where we are now, and that is why it is important that we pass on this knowledge so that the nurturers of our heritage are not only here as provincialists, but also in Ungvár (Uzhhorod), Kolozsvár (Cluj-Napoca), or the Délvidék (Vojvodina) or Sydney, or in New York to nurture this heritage.
— This is a very good team building and I really enjoy meeting new people as it can even help in the future. And I'm glad to be able to talk to people of different nationalities, different cultures, and different languages.
— I'm happy to be here.
— I love Hungary, Budapest.
— For a couple of years, I planned to come out here for a year, and then spend a year, here again, and I would reconnect with Hungarian culture and my roots.
— György Nógrádi:
This is a wonderful thing because, in 5-10-15 years, these young people will be middle managers or top managers, so what they are experiencing in the world, among other things, in the current situation, they can apply, they can use.
— It was interesting to listen to, and the questions were very good, so I am terribly interested in world politics and how Hungary fits into this global picture, this interests me terribly.
— I really liked this "Hazajáró" (Homecoming) program because I really like the historical places.
— Oszkár Kenyeres:
The main message is without homeland knowledge there is no patriotism, this is our main motto, we try to convey this so that everyone should know their own background, and then perhaps it will help as many people as possible to stay at home in their homeland.
The event was organized by the Rákóczi Association in cooperation with the Ministry of Foreign Affairs and Trade and the Tempus Public Foundation.