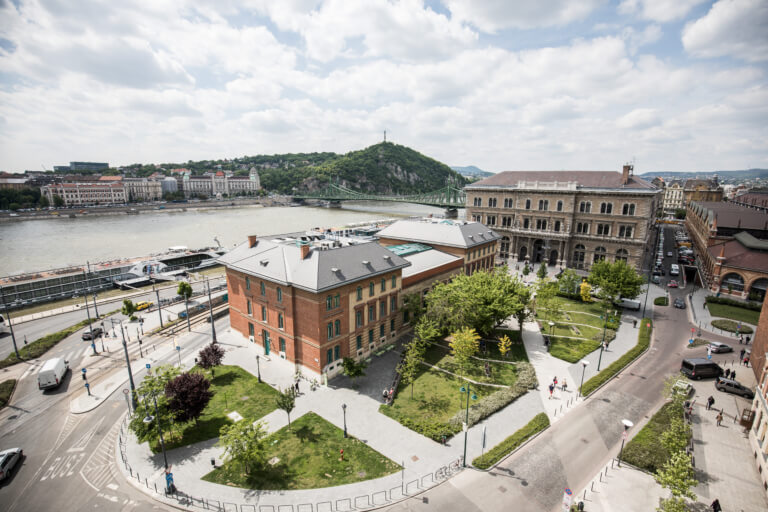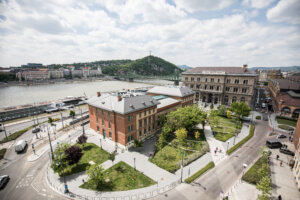 2022-01-05
If you are interested in studying in Hungary but you are still thinking about which university to choose, our series about Hungarian universities will help you decide! In this part, you can read more about Corvinus University of Budapest. If you want to study for a valuable EU degree in the capital of Hungary, read our article and get inspired!
---
IN THE HEART OF BUDAPEST
Corvinus University is one of the most prestigious Hungarian higher educational institutions in the fields of Economy, Management and Social Sciences. The university was established in 1899 and it is located in Pest on the left bank of the River Danube. The Budapest Campus of Corvinus University has three main buildings. The University's main building (Building E) is part of the UNESCO Heritage Sites and it faces the Budapest University of Technology and Economics on the other side of the river. Surely, Corvinus offers one of the best panoramic views of Budapest including Gellért Hill and Liberty Bridge. The university is next to the Great Market Hall and it is very close to the city centre with numerous opportunities for international students. Concerning public transport, you can either reach out for metro line M4 at Fővám tér or you can choose Trams 47 and 49 as well as BKK buses. If you want to go out with your friends between two classes to have lunch, you only need to walk 5 minutes to Ráday utca or Kálvin tér, where you can have culinary experiences and try traditional Hungarian cuisine. Moreover, the University is very close to Bálna Budapest, which is a service centre and cultural meeting point with numerous restaurants and shops.
CORVINUS UNIVERSITY OF BUDAPEST
The university has three different faculties: Corvinus Business School, Corvinus School of Economics, and the Faculty of Social Sciences and International Relations. The Business School is a centre for education and research in organisation, management and business, while Corvinus School of Economics focuses on world economy and economic policies embedded in a global and European context. The Faculty of Social Sciences and International Relations is outstanding in the fields of innovation as students are taught to apply social science researches to practical concerns.
At Corvinus you can learn languages, make connections, and gain cultural and professional experience at the same time. The university puts considerable emphasis on international connections, so it provides you with the opportunity to study at one of the 300 partner universities located on 5 continents.  Since Corvinus is a bilingual university with a growing number of English programmes, you can learn in an international environment and have friends from all over the world. Currently, 42 English language programmes are available from bachelor's level to doctoral level including double degree programmes. Concerning international awards, Corvinus Business School was positioned among the first 100 best business schools by the Financial Times Business Schools Ranking in 2019.
LIFE AS AN INTERNATIONAL STUDENT
Besides studying, the university provides all kinds of opportunities for international students to relax and enjoy themselves while participating in high-quality events and programmes such as Researchers' Night in Hungary or Brain Bar, which is Europe's biggest festival on the future since 2015. If you want to have community experiences, you can choose from ten different student associations such as AIESEC, ESN, AEGEE and many other.
Corvinus University of Budapest has four dormitories which can accommodate approximately 1100 students. As a leisure time activity, you can choose from the available courses of the Physical Education Department and Sports Centre, or you can also buy a gym card at the local university gym at Kinizsi utca. Additionally, if you need a study area to prepare for your tests, you can always go to the University library at the new building (Building C). The library provides access to a wide range of printed and electronic resources and it has a printed collection of 400 thousand books, dissertations, manuscripts, and lecture notes. The collection focuses mostly on economics, business studies and social sciences.
Corvinus University of Budapest provides a great chance for international students not only in the fields of academic development and networking but also in the fields of personal growth and building international relations during your Hungarian studies. So, if you are eager to try yourself in an international environment and want to earn a European degree, Corvinus University offers great opportunities you!
Source: Corvinus University of Budapest ; apply.stipendiumhungaricum.hu