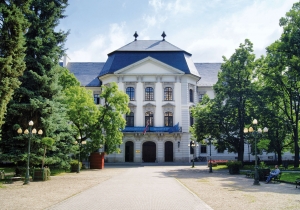 2020-12-21
As a Hungarian Diaspora Scholarship applicant, you can choose from a wide range of programmes that cover all higher education fields and degree levels. Learn more about available study programmes at Eszterházy Károly University!
---
Reboot your roots at Eszterházy Károly University!
Eszterházy Károly University is one of the most prominent and dynamic higher education institutions, located in the nothern region of Hungary. Currently serving more than 8000 students, the university offers high-standard education and many research opportunities in a friendly and welcoming environment.
The University offers degree programmes at five faculties and three campuses within easy reach from the capital of Hungary. The state-of-the-art university campuses and high-level student services create excellent environment for competitive education, while the beautiful historic towns of Eger and Jászberény provide vivid student community and various cultural events throughout the year.
Within the Diaspora Scholarship Programme, at Eszterházy Károly University you can choose from 5 accredited English language programmes at bachelor's and master's level, in partial or full time degree forms. If you are interested in Musical Culture or Pre-school Teaching BA programmes or International Relations MA programmes, Eszterházy Károly University is a place where you can reach your academic goals.
Learn more about Eszterházy Károly University and apply here!