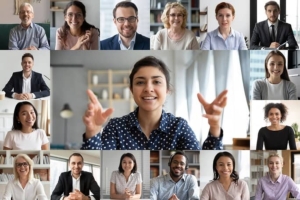 2022-07-13
Make the most out of your time at the university and join the Alumni Network Hungary to expand your professional connections! By joining the network, you will also gain access to our exclusive Alumni Hungary Webinar Series which offers inspiring talks of outstanding Hungarian scientists and professionals!
---
The Alumni Network Hungary is the largest international alumni network in Hungary, with more than 8000 registered members from 100 countries, and the numbers are constantly growing. The network aims to support former and current international students to make the most out of their Hungarian studies, strengthen their professional and scientific relations and develop their skills. The network is open not only for international students but for Hungarian universities as well, so if you want to stay connected with your alma mater, you can do so by registering to us.
Besides keeping in touch, building a professional network, and getting the latest news on Hungarian higher education and academic life, by joining the network, you will also get access to our exclusive webinars!
The Alumni Hungary Webinar Series
The webinars of the Alumni Network Hungary feature world-famous Hungarian scientists, artists, and professionals who give inspiring presentations about their latest research and innovations in fields such as engineering, filmmaking, biology, astronomy or computer science. We also offer special talks held by alumni volunteers about their research and profession. The webinars are conducted online, where participants can ask the presenters questions or raise ideas, and as a member, you can also rewatch the recordings at any time.
Here are a couple of examples of our presenters from the last two years:
-Örs Hunor Detre: A physicist and astronomer, who has been working for 15 years on the James Webb Space Telescope, the largest international space project of our time. He talked about the challenges of the development and the importance of the project.
-Kristóf Deák: Hungarian film director, screenwriter, film producer, and editor who created the short film Sing, which earned him an Academy Award at the 2017 Oscars. He talked about the process of storytelling and collecting great ideas.
-Judit Polgár: The legendary Hungarian chess grandmaster, who is considered to be the strongest female chess player of all time gave an insight into the world of chess and her professional life.
Join the Alumni Network Hungary and enjoy the benefits of a wide professional and social network and our exclusive contents. If you would like to participate at our next webinars or rewatch the previous editions, register the network by clicking HERE!
Start planning your future now to make the most out of your current studies!
For more information visit the Alumni Network Hungary website and follow our Facebook page HERE!